Appetite Guide
Who does VFIS insure?
We're answering independent agents' and brokers' top questions about VFIS and insuring emergency service organizations.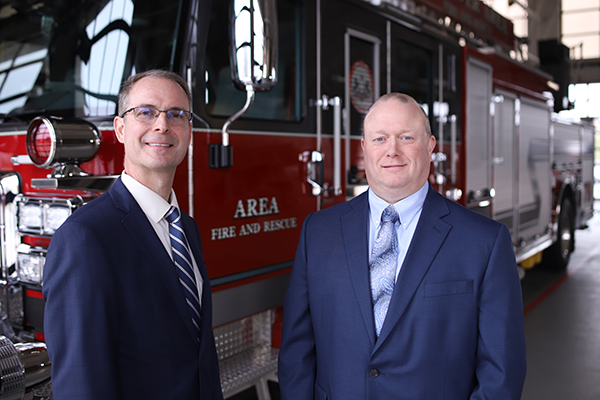 Let's talk about VFIS' appetite and insuring emergency service organizations.
If you're new working with emergency service organizations, also known as "ESOs", we'd first like to applaud you in your efforts to help protect your community's hometown heroes. We're proud to be specialists in the fire and emergency services market and help brokers learn more about the field, what opportunities are available and the types of coverages that can make a meaningful difference for ESOs and their members. We're breaking down some of the basics—but please know our sales associates, underwriters and risk solutions professionals are always here to help!
Frequently asked questions
We're proud to serve a wide-variety of responders—and to put it simply, we're open to looking at all ESO-related accounts, including:
Organizations in the fire service like fire districts and departments (including career, volunteer and combination)
Organizations that provide emergency medical services including ambulance or rescue squads
Organizations that respond to community incidents like disaster response teams, HazMat crews and search and rescue teams
Organizations that are a part of community response operations, including 911 dispatch centers
Organizations that support the efforts of ESOs like EMS councils, junior firefighter programs and industry or county or state associations
Two exceptions to this rule are commercial ambulance companies and police departments. But don't worry, we have separate sister programs for these types of organizations, Glatfelter Commercial Ambulance and Glatfelter Public Entities, who may be able to help!
Looking for new prospects in your area? There are more varieties of ESOs out there than you may think! Here are types of accounts to look for in your community (and, yes—we can cover all of these types of organizations):
Municipal Fire Departments: This is one of the most common types of public fire protection and is a division of municipal government (so they're typically funded by tax assessment).
County Fire Departments: More popular in metropolitan areas, these professionally administered organizations allow numerous small, suburban municipalities to enjoy the benefits of a fire department staff and facilities—which few small communities could afford individually.
Fire Districts: Fire districts are another type of public fire service organization which is organized under special provisions of state law—usually supported by a district tax levy. It's a separate unit of government and has its own governing body composed of commissioners or trustees.
Fire Protection Districts: This is another common type of fire protection authority which is a legally-established, tax-supported unit for the purpose of contracting fire protection from nearby fire departments or volunteer fire associations.
Independent Volunteer Fire Companies + Associations: These organizations raise their own funds by public activities and subscriptions, frequently with contributions of funds or equipment from interested units of government.
Ambulance+Rescue Squads (Stand-Alone): Many stand-alone ambulance operations are independently run and may raise their own funds or be tax-supported—or a combination of the two. These organizations respond to emergency medical situations and provide care and transport.
Relief Associations: These serve as a funding source for emergency responders to purchase benefits or personal protective equipment (also known as PPE). These are common in some states, like Pennsylvania, where tax funds are released to a Relief Association that is responsible for distributing the funds according to the specific requirements of use.
First Responders: These responders, which are usually fully or partially supported by local municipalities, are available for fast response with limited medical training and are often able to provide basic life-saving services until an ambulance arrives.
Community Emergency Response Teams (CERTs): These programs educate community members about disaster preparedness for hazards that may impact their area and train them in basic disaster response skills including fire safety, light search and rescue and disaster medical operations. These are often self-funded, but may be supported by the local municipality.
Search and Rescue Teams (SARs): These teams undergo specialized training for search and rescue operations and can involve the use of animals, such as dogs or horses, and water rescue and/or rope rescue. SAR Teams often respond in multiple counties—and sometimes several states—with only a small number of volunteers and few calls.
HazMat Response Teams (Stand-Alone): A stand-alone HazMat Team can be an independent organization or part of a municipal government and are highly specialized to contain hazardous material spills to help prevent environmental issues using unique gear and equipment.
Disaster Response Teams: The federal government has established the National Disaster Medical System (NDMS) to deliver healthcare to victims of natural disasters, industrial accidents or terrorist attacks when the incident overloads the capacity of the affected healthcare system—and state or regional disaster response teams receive specialized training to assist these efforts.
EMS Councils and Regional Area Committees (RACs) : These are not-for-profit organizations who plan, develop, maintain, expand and improve disaster management and EMS systems within a specific area. The goal of these entities is to reduce incidences of trauma through education, data collection, analysis and performance improvement.
Junior Firefighter/Explorer Post Programs: These programs allow fire departments to bring in younger members to help with fire department needs. Each fire department's junior firefighter program is uniquely designed to meet their needs, interests and circumstances.
Boy Scouts of America Explorer Posts: This is a specific type of junior firefighter program where the Boy Scouts of America (BSA) establishes an explorer post in a local department and allows scout members to become junior members of the department.
Associations and Training Schools: There are various types of training schools, chief associations and member associations that are organized to manage regional training and share industry-related updates with their members.
911 Dispatch Centers: Dispatch operations receive and distribute emergency calls to local responders and are usually county-run with career staffing.
Social End Only: In some states, a separate "social end only" entity serves as the primary fundraising or social arm of a fire department.
Auxiliaries and Fire Buffs: These organizations provide support to local fire departments and conduct various activities in their local territory like fundraising events or museum operations.
Most ESOs will need coverage for their facility, vehicles, apparatus, portable equipment (like turnout gear, hoses, thermal imaging cameras, radios/pagers, shovels, AEDs and backboards) and organization (including general and management liability).
Accident + Sickness—also known as A+S—goes beyond the material risks of emergency service organizations and helps protect the heroes themselves. Most responders face dangerous risks while they serve their communities but, unfortunately, it's sometimes not until after a claim occurs that they realize that even generous Workers' Compensation plans have gaps. A+S works to fill those gaps to help take care of responders and their families in the event of a service-related injury, illness or death. You can learn more about this coverage on our Products Page.
Glatfelter Specialty Benefits, another one of our sister programs, provides a variety of custom coverages for organizations that may not qualify for other VFIS coverages. Some examples include Group Term Life, Cancer and Critical Illness, Accidental Death and Dismemberment and special events like a mud run or flag football teams. You can learn more about this coverage on our Products Page.
Have questions?
Our Customer Experience Team is dedicated to supporting independent agents and helping you find the resources you need. Please reach out to us with any questions—we're always happy to help.